Shipping Container Specs to Match Needs and Budget
Shipping containers from Midwest Storage Containers are available to fit all application needs and budgets. We grade our new and used shipping containers and price accordingly, providing transparency in their conditions while ensuring you get what's needed.
Your shipping container will be of the highest quality, so rest easy knowing your items will be safe from the elements, whether being shipped or moved into storage. All our shipping containers are made of rugged COR-TEN™ steel and come with extensive customization options. From paint color to adding shelves, partitions or doors, our friendly experts are able to modify our shipping container specs to match the solution you need.
How Big Is a Standard Shipping Container?
Standard shipping containers from Midwest Storage Containers come either 20- or 40-feet long and 8 feet wide. 20- and 40-foot shipping container specs vary in height, with 20-foot containers standing at 8.6 feet in height and 40-foot containers 9.6 feet tall.
New Shipping Container Specifications
New shipping containers come in a variety of sizes. Take a look at the comparison table to help you determine the right option for your storage needs.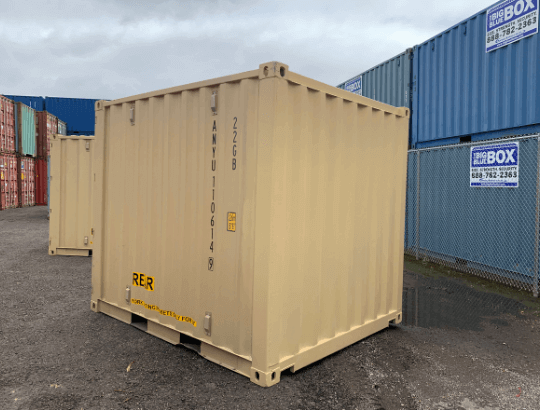 10′ x 8′ x 8′6"
PRICE: $$$$
Request a Quote
10' containers come new only and are specially made by the steamship line. They are great if you don't have enough room for a 20' Container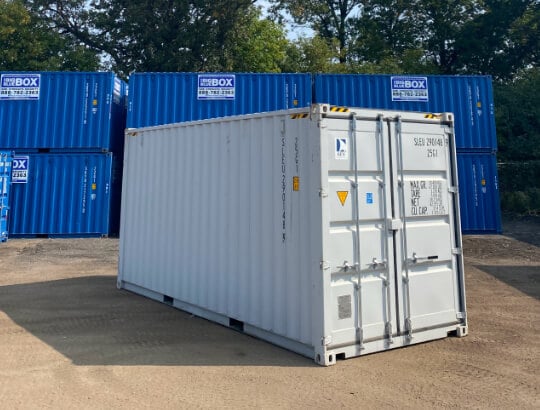 20′ x 8′ x 8′6"
PRICE: $$$
Request a Quote
20' containers are considered "plug and play." They also have a nice look without a shipping logo on the side and come with higher handles and lock boxes.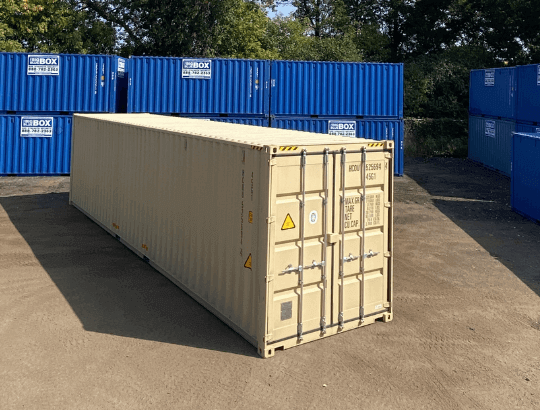 40′ x 8′ x 9′6"
PRICE: $$$$$
Request a Quote
40' units are the most expensive on the market but they look great and will give you the peace of mind that your storage solution is set up for the long term.
Used Shipping Container Specifications
Used shipping containers offer tremendous value. They are just as reliable but cost less. Note our specs for 40-foot-long shipping containers vary, with two height sizes available. Review the comparison table to see if buying used is a better option for you.
We can help you find the perfect container for your needs.
Learn More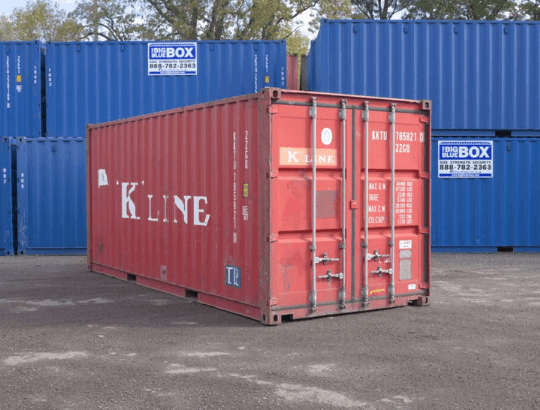 Standard 20' 20'x8' 6'x8'
PRICE: $
Request a Quote
20' used containers are the most popular for homeowners and are often used as sheds or local storage options.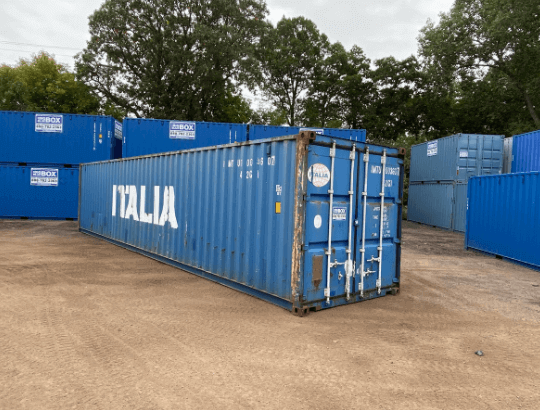 Standard 40' 40'x8' 6'x8'
PRICE: $
Request a Quote
40' used containers are popular with farmers, commercial businesses, and people with land.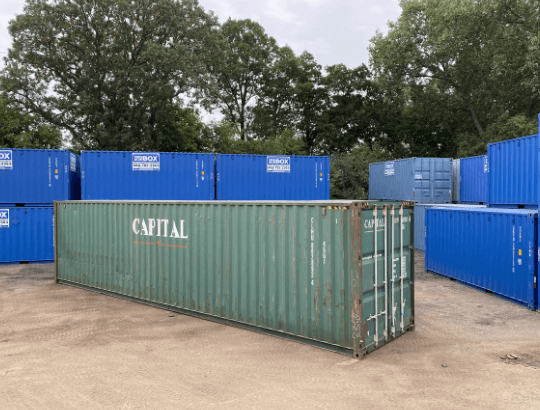 High Cube 40' 40'x9' 6'x8'
PRICE: $$
Request a Quote
The 40' High Cube is the most popular used container. They have a large footprint and extensive storage capacity all at a budget price.
Examining Used Shipping Containers
We carefully examine all of the containers we sell using the following guidelines:
Container must be wind and water tight with no light entering through any crack.
Any rust areas must be only surface rust. Containers will accumulate surface rust long before a hole is formed.
Doors must open and close correctly and completely with thoroughly intact door seals and sturdy floors with no soft spots.
All inserts (repairs of holes are welded on the outside and caulked on the inside) should be properly installed and repainted.
No corrosion and rust under door seals and hardware should exist.
 No major dents on the sides or the roof should be present.
No evidence of contamination or foul odors (e.g., hides can be transported in containers, leaving a strong odor).
Grades of Shipping Containers
One Trip/New
The container was manufactured in China and shipped to the U.S. It is being sold to you relatively quickly after arrival in the U.S.
Cargo-worthy
The container is no longer considered "new," but is still certified to ship goods overseas. It is wind and water tight and structurally can handle the rigors of overseas shipping.
Wind and Water Tight
The container is wind and water tight. While it may be cargo-worthy, a qualified surveyor has not inspected it to ensure that it is.
As Is
The container may have a leak or damage.